Category: Portrait
Mary Gelman / Freelance
"Alyona and Sasha"
Paul Hansen / Dagens Nyheter
"Tears of Congo"
Tsang Kwok Chung / South China Morning Post
"Run The Runtlet"
Tariq Zaidi / Freelance
"Natan at home"
John Wessels / Freelance
"Untitled"
Adrian Catu / Freelance
"Patric"
Elif Öztürk / Anadolu Agency
"Kalapo Boarding School"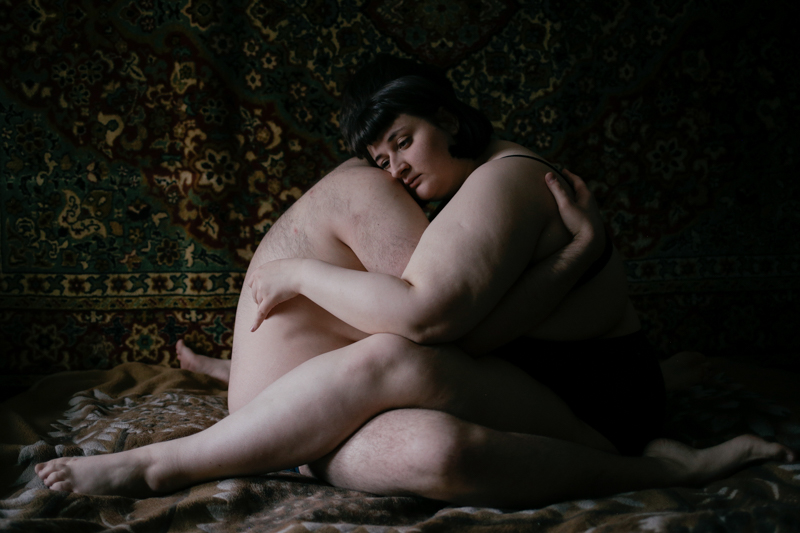 First Place
"Alyona and Sasha"
Alyona and Sasha are couple and they are hugging in their room. «Pig, sow, cow, oink-oink - I heard more often than my name. All the people in kindergarten and school insisted that I quit dancing, a fat girl in dancing, sounds like a scandal! Once at school, we rehearsed a dance, and while I was dancing, about ten boys from the class surrounded me. They were grunting and laughing at me. I always loved to dance, but I left this as each time I tried I was kicked and bullied.
It was a lot harder at home. My mother was ashamed of me, my father beat me. He always thought I ate too much and controlled me. He dumped a plate with food on my head or smashed it against the wall. I was afraid to eat and could starve for weeks. My mother hid food from me or cooked something I didn't like on purpose. Sometimes I ate leftovers from the kindergarten that she picked for our dog. My father did not care for this food, so I could reach it. When my mother was in the hospital, me and my brother stayed with the father. He locked me in a room for about five days and did not give me anything but water. Everyone was obsessed with my weight.
Probably the most time of my life I thought about death. It's hard to live when you are not respected and bullied only because of your weight. A couple of times I tried to drown myself, but my mother pulled me out. A few years ago, I found a love, learned about other overweight people on instagram, started to read about body positive and feminism. If not for that, I would not be here right now».