Category: Online Storytelling: News Reporting
Eliza Barclay, Kainaz Amaria, Umair Irfan, Tristan McConnell, Victor Moriyama, Sarah Waiswa, Ardiles Rante, Amanda Northrop, Ryan Mark, Tim Williams, Susannah Locke, Ben Pauker, Alexa Lee, Nisha Chittal and Madeline Marshall / Vox
"These 3 supertrees can protect us from climate collapse"
Rebecca Hersher, Ryan Kellman, Catherine Laidlaw, Patricia Cole, Thomas Wilburn, Daniel Wood, Alyson Hurt, Connie Hanzhang Jin, Constance Miller, Gisele Grayson / NPR
"After The Water"
Emily Kassie, Tom Meagher, Julia Preston, Susan Chira, Bill Keller, Alex Ivany, Katia Vannoy, Margaret Cheatham Williams, Bryan Gentry, Quinn Gunderson, Seffy Hirsch, Jih-e Peng, Kenny Suleimanagich, Wrangel Lubin, Andrew Calderon, Alejandra Rivera Flaviá, Ari Balouzian, Mary Nittolo, Eric Schutzbank, John Holmes, Victor DeRespinis and Jackie Garbuio / The Marshall Project and The Guardian
"Detained: How the United States created the largest immigrant detention system in the world"
Kevin Fagan, Kurtis Alexander, Erin Allday, Nanette Asimov, J.K. Dineen, Dominic Fracassa, Matthias Gafni, Joe Garofoli, Justin Phillips, Sarah Ravani, Tatiana Sanchez, Evan Sernoffsky, Rachel Swan, Otis Taylor, Trisha Thadani, Jill Tucker, Sam Whiting, Demian Bulwa, Geoff Link, Warren Pederson, Emily Fancher, Todd Trumbull, John Blanchard, Daymond Gascon, Nicole Frugé, Guy Wathen, Lacy Atkins, Noah Berger, Paul Chinn, Jessica Christian, Preston Gannaway, Carlos Avila Gonzalez, Liz Hafalia, Yalonda M. James, Stephen Lam, Gabrielle Lurie, Santiago Mejia, Josie Norris, Amy Osborne, Nick Otto, Scott Strazzante, Lea Suzuki, Manjula Varghese, King Kaufman, Libby Coleman, Danielle Mollette-Parks, Brittany Schell, Audrey DeBruine, Erica Yee, Evan Wagstaff, Michael Gray, Tim O'Rourke and Audrey Cooper / San Francisco Chronicle
"One day, one city, no relief: 24 hours inside San Francisco's homelessness crisis"
Thomas Kaplan, Tamir Kalifa and Eden Weingart / The New York Times
"How to Get a Selfie With Elizabeth Warren in 8 Steps"
Chris Serres, Glenn Howatt, Richard Tsong-Taataril / Minneapolis StarTribune
"Two families plead for help. It never comes."
Victor Moriyama and Matt Sandy / The New York Times
"'The Amazon Is Completely Lawless': The Rainforest After Bolsonaro's First Year"
Alexander Burns, Sydney Ember, Jonah M. Kessel, Haeyoun Park, Jonah M. Kessel, Larry Buchanan, Alastair Coote, Rebecca Lieberman, Umi Syam, Yousur Al-hlou, Tony Cenicola, Michael Cordero, KC McGinnis, Edythe McNamee, Julio Quintana, Emily Rhyne, Abe Sater, Joshua Thomas, Ainara Tiefenthäler, Tony Cenicola, Tanner Curtis, Todd Heisler, Meg Felling, Shane O'Neill, Alexandra Eaton, Dave Horn, Robin Lindsay, Will Lloyd, Ainara Tiefenthäler, Aaron Byrd, Amanda Cordero, Michael Cordero, Dave DeCristo, Alex Garces, Abe Sater and Jessica White / The New York Times
"18 Questions. 21 Democrats. Here's What They Said."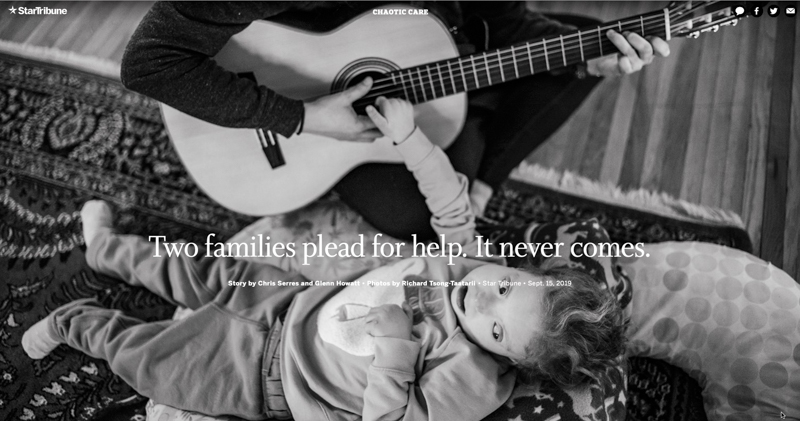 Award of Excellence
"Two families plead for help. It never comes."
Emily and David Gold keep the small bedroom where their daughter Lizzie once lived exactly as she left it. Her favorite flowered dress hangs on the front door as if she were still alive.
This is where the Golds cared for Lizzie — feeding her, lifting her in and out of her bed, and rushing to clear her airways with a suction tube at all hours of the day and night.
Born with a debilitating chromosomal disorder, Lizzie suffered as many as 200 seizures a day and was so fragile that a bad cold could have killed her within hours.