Statement of Judging Ethics



Pictures of the Year International selects judges who maintain the highest journalistic and ethical standards. We have confidence that these same values will apply as jurors for POYi. We recognize that our profession is a close network and that the judges are also working journalists. So we carefully research and consider any potential conflicts and then counsel all the members about their obligations to be fair and impartial. Any judge with entries in a category must recuse themselves. The entire three weeks of judging is an open forum for anyone to quietly observe the process. POYi conducts the annual competition with complete transparency and integrity.


Week One Week Two Week Three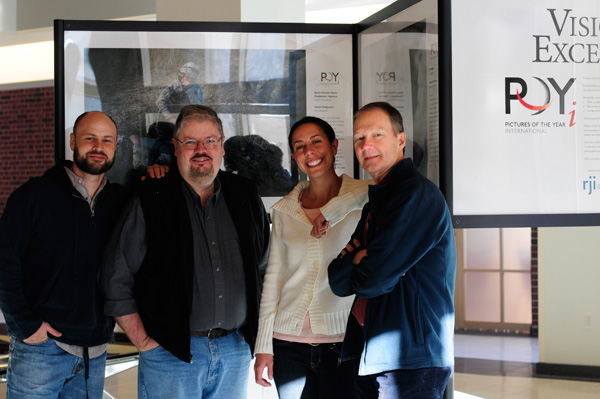 From Left to Right:

David Guttenfelder
Associated Press
David Guttenfelder grew up in rural Iowa, but has spent his entire career as a photojournalist living and working outside of his native United States. He began as a freelance photographer in Rwanda in 1994 after studying Swahili at the University of Dar es Salaam in Tanzania. As an Associated Press photographer for the past 16 years, he has been based in Kenya, Ivory Coast, India, and Japan. He currently is living in Tokyo as AP's Chief Asia Photographer. Guttenfelder's work has been recognized with the Overseas Press Club of America- John Faber award. He was named 2006 NPPA Photojournalist of the Year and has twice been runner-up for POY Newspaper Photographer of the Year. He is a six-time World Press Photo award winner. He is a six-time finalist for the Pulitzer Prize for his work on past re-unification efforts by North and South Korea, the U.S.-led invasion of Iraq, the Israeli/Hezbollah war, Vietnamese children afflicted by the toxic legacy of Agent Orange, the earthquake in China's Sichuan province, and the 2009 U.S. military surge in Afghanistan. Guttenfelder has exhibited his work at Visa pour L'Image, the Council on Foreign Relations in New York, and at the Encuento International de Foto Periodismo in Gijon, Spain where he won the "Cuidad de Gijon" International Journalism Prize. He has taught and lectured at the Eddie Adams Workshop, the NPPA flying short course, and the Tokyo Metropolitan Museum of photography. Guttenfelder graduated from the University of Iowa with a B.A. in Cultural Anthropology, African Studies, and Journalism. He is married with two young daughters.

ken lyons
The Denver Post
Ken Lyons is Senior Photo Editor at The Denver Post. Before moving to Colorado, he was Director of Photography for The Orlando Sentinel. In Virginia, Ken was a photojournalist and editor for The Daily Press. Honors for his picture editing work include first and second place in picture editing portfolio in the POYi editing competition. The Denver Post under Lyons direction was recognized with first place Best Use of Photography in the Best of Photojournalism competition. As a photojournalist Ken was named third place Photographer of the Year in the POYi competition. He received the Virginia News Photographer of the Year award twice. He directed the staff of the Orlando Sentinel to its first picture editing awards in POYi and the Best of Photojournalism. Ken is known throughout the journalism community as a coach and mentor. He has served as faculty member for the Kalish Picture Editing Workshop and team leader for the Truth with a Camera workshop. He participated as a judge for state and national contests. Known for his collaborative nature throughout the newsroom and coaching abilities with photographers, Ken inspires everyone to work together in new ways and across all platforms. Online, Ken is editor of two photography blogs, Denver Post's Pictures of the Week and In Focus. In Focus, also a weekly newspaper column, takes a closer look at social, economic and political issues across the globe. Pictures of the Week compiles the best in photography from around the world. Ken lives in Parker, Colorado with his wife Cathy and two daughters Hannah and Hayley.

Katie Falkenberg
Freelance photojournalist
Katie Falkenberg is a freelance photographer, on contract with the Los Angeles Times. She began her career in Washington, D.C., where she covered the White House and Capitol Hill. After beginning graduate work at Ohio University, she joined the staff of The Washington Times. This job took her from the quiet hollows of West Virginia to the bustling streets of Pakistan, working to document some of the most pressing social issues in the United States and abroad. Her photography and multimedia work have received awards from Pictures of the Year International, the White House News Photographers Association: Best of Photojournalism, Editor & Publisher, and the National Press Photographers Association. Her short film, Uninsured in the Mississippi Delta, was recently selected for the Media That Matters 2010 Film Festival, where it received the Human Rights Award.
Porter Binks
Sports Illustrated
Porter Binks is a freelance photo editor, photo event manager and photographer in New York City. He is most closely associated with Sports Illustrated, where he spent 10 years as College Basketball picture editor, and where he continues to freelance on special projects as well as edit for the weekly magazine. He also edits for other clients including European Pressphoto Agency and The Washington Post. Binks was a photo manager at the 2010 Vancouver Olympic Winter Games at Ski Jumping and Cross-Country skiing and is currently a photo consultant to the NCAA Men's Basketball Tournament. Prior to joining Sports Illustrated, Binks spent 16 years as a sports picture editor and photographer at USA TODAY. He has covered six Olympic games as well as many major sporting events and was a production photographer for six Eco-Challenge adventure races. He began his career at The Chattanooga Times as a copy boy, where he was also a reporter and photographer. He served in the U.S. Air Force.
JUDGING PANEL MODERATOR


Rick Shaw
Pictures of the Year International - Director
Rick Shaw is director of Pictures of the Year International (POYi), an international photojournalism program affiliated with the Missouri School of Journalism and the Donald W. Reynolds Journalism Institute. Shaw joined the journalism school in 2004 as an assistant professor in the photojournalism sequence, and director of photography for The Missourian, the student-produced daily city newspaper. Shaw's prior newspaper career spans 27 years in visual editing and management. He began as a photojournalist and moved into picture editing, working at a variety of newspapers including The Florida Times-Union in Jacksonville and then The Sacramento Bee for 12 years. At The Bee, he served in a variety of positions including photo editor, assistant director of photography, and later as an assistant news editor. Rick then became the director of photography and graphics at The Arizona Republic in Phoenix, and in 2001 joined the Hartford Courant as their director of design and graphics. He has been recognized with several design and picture editing awards, including Picture Editor of the Year honors in POYi and NPPA competitions. The Sacramento Bee and Hartford Courant both have received the Angus McDougall Overall Excellence in Editing Award. At The Missourian, he directed the student photo editing staff to two consecutive POYi photo editing portfolio awards, competing against professional newspapers nationwide — a third place editing portfolio during the 64th annual competition in 2007, and an Award of Excellence editing portfolio during the 63rd annual competition in 2006. Rick's current master's research thesis relates to online visual journalism, and examines the effects of new organizations' visual personalities with regards to audience perceptions of credibility.