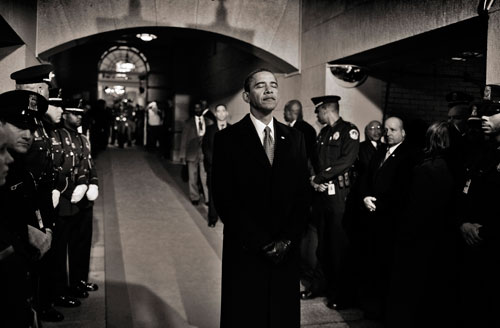 First Place
Charles Ommanney
Getty Images

"untitled"



On January 20th 2009 Barack Obama became the 44th president of the United States. This inauguration signaled the end of the Bush years. The young president was to inherit two wars, a raging recession and teeming unemployment. The pressure was immense. The world was watching closely but their was a sense of hope in the country.

President Bush and his entourage were ready to leave as they waited for the new first family to arrive at the White House. President Bush paced back and forwards only stopping to glance at his watch. A private group of guests comprised of Senators, Congressmen and family friends were assembled in the East wing. Coffee was served in the Blue room as the president elect listened intensely to Bush's parting words before the two men donned their coats for the short drive to the Capital. There was an excitement in the air.

At the Capital the two men went their separate ways. The young President elect practiced his salute with Michelle before he was left alone with his thoughts as he prepared to go out and deliver the speech of his life. He was ready.

WASHINGTON - JANUARY 20: Barack H. Obama holds in a crowded hallway backstage at the Capital moments before walking out to be sworn in by Chief Justice John Roberts as the 44th president of the United States on the West Front of the Capitol on January 20, 2009 in Washington, DC. Obama becomes the first African-American to be elected to the office of President in the history of the United States.