First Place
John Moore
Getty Images
"Evicted In America"

Second Place
Greg Kahn
Naples Daily News
"It's not a house, it's a home: Florida's Foreclosure Crisis"

Third Place
Matt Black
Freelance
"Rural California's New Hard Times"

Award of Excellence
Renée C. Byer
The Sacramento Bee
"California Economy Crisis"

Award of Excellence
Ruth Fremson
The New York Times
"An Outpouring of Need"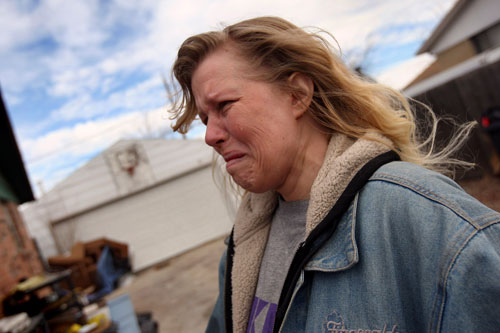 First Place
John Moore
Getty Images

"Evicted In America"



Tracy Munch watches as an eviction team removes furniture from her foreclosed home February 2, 2009 in Adams County, Colorado. She had been renting the house from an owner who collected the monthly payments but had stopped paying the mortgage. The bank foreclosed on the property and called the sheriff's department to supervise the eviction. Although the bursting of the housing bubble in 2008 is credited with starting the "Great Recession," 2009 would be the highwater mark for foreclosures and evictions in the history of the United States. Plunging home values and soaring unemployment meant that millions of Americans could no longer afford the homes they lived in.