Category: Daily Life
Demetrius Freeman / Freelance
"Little Sun Girls"
Qiang Li / Freelance
"Orphan Monks in Myanmar"
Søren Bidstrup / Berlingske
"USA 6"
Stephanie Keith / Reuters
"Sacred Lakota Ride"
Maya Alleruzzo / Associated Press
"Message from Dad"
Amnon Gutman / Freelance
"To Be At Peace"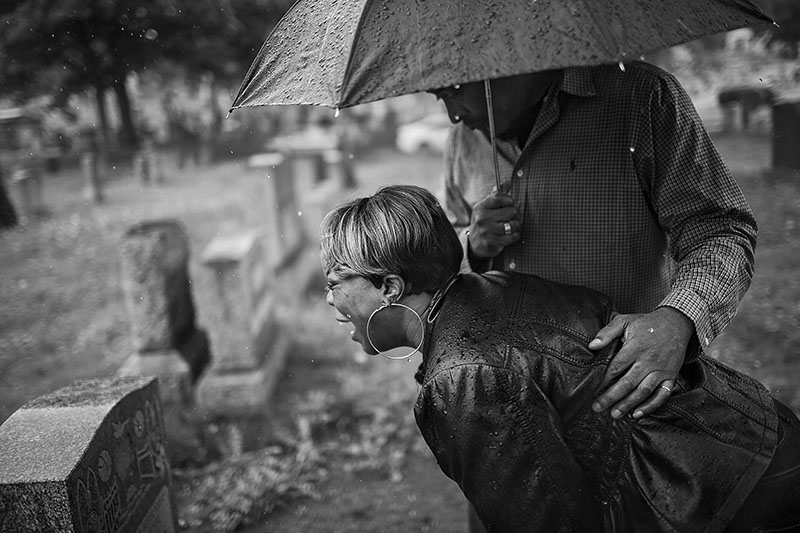 Award of Excellence
"To Be At Peace"
The parents of Clayton Hemmingway Jr., 16, comforting each other during a visit to Ever Greene cemetery. where he is buried.
CJ was murdered on November 4 2017, at the entrance to his apartment building in Linden Houses, after an argument on the basketball court in Gersh Park, East New York.
The murderer is still at large.
This project documents the context of ongoing, grass-roots community action in response to the social problems associated with poverty from street crime to drug addiction as well as gun violence in East New York. It is a part of an ongoing, long term urban project which began in Crown Heights, Brooklyn in 2012. In this section of the project, i follow the efforts made by a local organization called ManUp Inc. Members of ManUp have chosen the Egyptian word "Hotep," which means "to be at peace" to greet people in their community. This choice tangibly demonstrates their powerful and focused aim. my work represents aspects of the difficult challenge they face.
Efforts to change a troubled reality in the context of an impoverished community must be directed at different sources of concern simultaneously. Community action maximizes the strategy of empowerment through personal relations and shared goals. Cure Violence, a program based on the Chicago Cease Fire Initiative and used by ManUp employs strategies indicated by the key word "Cure" in its name. The program defines its challenge by using concepts borrowed from the prevention of the spread of a contagious disease: the detection and interruption of conflicts, identification and treatment of high risk individuals and examination of social norms. Also using principles set down by CeaseFire, an initiative of the Chicago Project, ManUp's out-reach team workers try to break the chain of street violence by acting as peer counsellors to potential perpetrators and victims.