Winner
Kira Pollack, Richard Stengel, Marco Grob, Radhika Jones, Karlyn Michelson, Paul Moakley, Erica Fahr Campbell, Caroline Smith, Chris Rushing, Time Warner Global Media Group & TIME Magazine Staff
TIME Magazine
"BEYOND 9/11"
Finalist
Albert Lee, Francine Orr, Mary Vignoles, Armand Emamdjomeh, Stephanie Ferrell, Anthony Pesce, Megan Garvey, Myung Chun & Alan Hagman
Los Angles Times
"LIVING WITH AUTISM"
Finalist
Nikos Katsaounis & Nina Maria Paschalidou
Freelance
"THE PRISM"
Finalist
Sarah Kramer & Nicole Bengiveno
The New York Times
"COMING OUT"
Finalist
Seamus Murphy, Eric Maierson, Brian Storm, Leandro Badalotti, Tim Klimowicz, Bruce Strong, Avinash Tharoor, Ian Bodenham, Afghan Film Organization, Lukas Augustin, Salome Augustin, Tucker Walsh & Charles Sennott
MediaStorm
"A DARKNESS VISIBLE"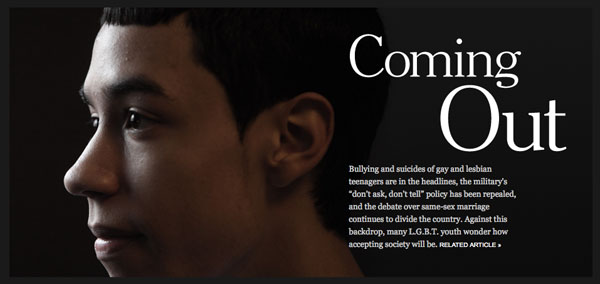 Finalist
Sarah Kramer & Nicole Bengiveno
Freelance


Click here to view the original entry online.
"COMING OUT"


Bullying and suicides of gay and lesbian teenagers are in the headlines, the military's "don't ask, don't tell" policy has been repealed, and the debate over same-sex marriage continues to divide the country. Against this backdrop, many L.G.B.T. youth wonder how accepting society will be.