First Place
Alfonso Moral & Roser Corella
Freelance
"MACHINE MAN"
Second Place
Brian J. Clark & Ross Taylor
The Virginian-Pilot
"A CHANCE IN HELL"
Third Place
Maisie Crow, Jesse Dukes, Ted Genoways & Adam Brock
Virginia Quarterly Review
"HALF-LIVES"
Award of Excellence
Seamus Murphy, Eric Maierson, Brian Storm, Leandro Badalotti, Tim Klimowicz, Bruce Strong, Avinash Tharoor, Ian Bodenham, Afghan Film Organization, Lukas Augustin, Salome Augustin, Tucker Walsh & Charles Sennott MediaStorm
"A DARKNESS VISIBLE"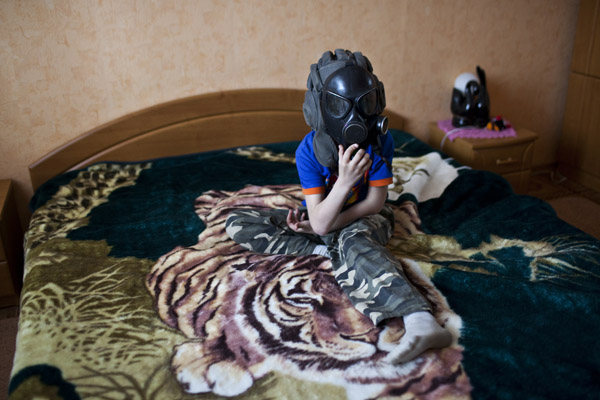 Third Place
Maisie Crow, Jesse Dukes, Ted Genoways & Adam Brock
Virginia Quarterly Review


Click here to view the original entry online.

"HALF-LIVES"

"After the Chernobyl accident, the world began to fear nuclear energy." Dmitri Stelmakh said this to me during one of my first visits to Slavutych. "Chernobyl" became a household term that, for me, conjured images of sick children and the abandon city of Pripyat. Until visiting Slavutych, I never imagined the stalwart workers who now decommission the plant or the next generation of familes who will inherit its legacy. "If Pripyat represents destruction and defeat––a lost city, a dead city––then Slavutych is the resurrection," Slavutych Mayor Volodimir Udovichenko told me a few days before Easter and the 25th Anniversary of the Chernobyl disaster. Slavutych is the city Chernobyl built. It was erected by the Soviet government shortly after the disaster as a replacement for the abandoned city of Pripyat which had to be evacuated because of its proximity to the plant. Slavutych was built to provide workers with a comfortable life and modern amenities. But, in 2000, under international pressure, the Ukrainian government shut down the final operating reactor resulting in a massive job loss for the community. Retired workers survive on small pensions and deal with the toll taken by decades of radiation exposure. Younger workers continue to disassemble the plant, but many worry about the uncertainty that lies ahead. "We have no future for our children after they graduate from school," Lubov a retired Chernobyl liquidator lamented as she talked about the lack of new jobs at the plant and the stagnant economy. Many of those electrical engineers lucky enough to have jobs sit resignedly at desks, squandering their training and talent. "Radiation isn't scary for those who work at the plant. They are not afraid, and the people who live in Slavutych aren't afraid either.They are tired of being afraid," Lubov said. "They are afraid that the city of Slavutych will be shut down, that it will be a second Pripyat."