First Place
Elles van Gelder, Ilvy Njiokiktjien, Metropolis Film, Thomas Knijff, Aico Lind
Freelance
"AFRIKANER BLOOD"
Second Place
Stephanie Sinclair, Pamela Chen, Roger M. Rchards, Alex Germanotta, Ed Ballinger & Bryan Hoben
VII for The Pulitzer Center on Crisis Reporting / National Geographic
"TOO YOUNG TO WED"
Third Place
Catherine Orr, Catherine Spangler, Hadley Gustafson & Sarah Riazati
Powering a Nation 2011
"BORN INTO COAL"
Award of Excellence
Maxim Dondyuk, Nikolay 'Krab' Dondyuk, Andrei Kojoohar, Sergey Ilin
Freelance
"THE TB EPIDEMIC IN UKRAINE"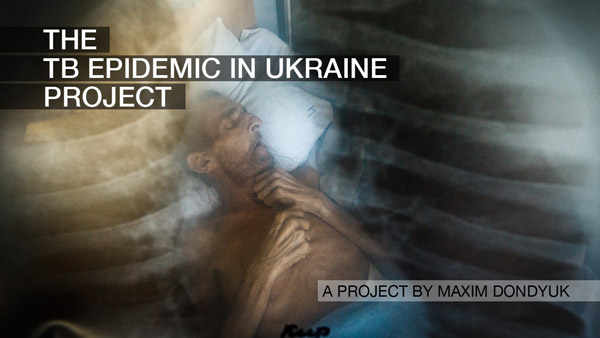 Award of Excellence

Freelance


Click here to view the original entry online.
"THE TB EPIDEMIC IN UKRAINE"


In 1995, the World Health Organization declared the tuberculosis epidemic in Ukraine. Over the past 16 years the situation has greatly worsened. Each day TB takes lives of 30 people, annually - about 10 thousand.

In December 2010, I went to Donbass region in Ukraine. I was greatly influenced by what I saw on the first day. One of the first patients I had photographed was suffering from gastrointestinal tuberculosis. He was lying naked on a hospital bed and staring at the ceiling. A week later I was with him in the last hours of his life. He could not move or talk, his body was like a skeleton covered with skin. He clutched a cross to his chest and prayed. Afterwards I met his wife and she told me how he had walked around the house with a torn stomach and intestines dragging across the floor, because the ambulance had refused to transfer him to the hospital. They had to call for a taxi.

After a while I realized that this happens all over the country and that the epidemic of tuberculosis has become one of the national problems. A lot of prisons amnesty the convicts in serious health conditions so as not to spoil their mortality figures. Two-thirds of former prisoners are dissolved in the country without being kept under medical supervision. Hospitals are in a terrible state and all phthisiology keeps on doctors who are long overdue to retire. Patients with drug-resistant TB have to use public transport to receive medical supplies and food and those without money just die in their beds. In the midst of current political wars in Ukraine everybody is just indifferent to the problem of tuberculosis.