Award of Excellence
Tomas van Houtryve Newsweek
"Secret North Korea"
1 of 12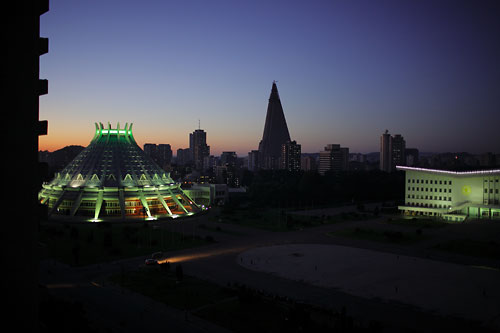 North Korea remains the most closed society in the world. Information entering or leaving the country is strictly controlled by the state including a total ban on mobile phones and the internet. Ubiquitous propaganda urges citizens to hate their enemies and revere the Great Leader. Since 1997, Kim Jung-Il has successfully implemented his "Army First" ideology which calls for "giving priority to military issues over everything." After test detonating a nuclear bomb in late 2006, North Korea entered into high stakes negotiations with the United States in 2007. Agreements were reached to shut down nuclear facilities in return for massive foreign aid, but by the end of the year Pyongyang had missed the agreed deadlines and issued a statement threatening to "continue to harden its war deterrent."
The Pyongyang skyline, dominated by the abandonned Ryugyong Hotel (center)is seen in the evening in Pyongyang, North Korea (DPRK) on 22 August 2007.