Second Place
Aaron Huey Atlas Press
"In The Shadow of Wounded Knee: Life on the Pine Ridge Indian Reservation"
1 of 12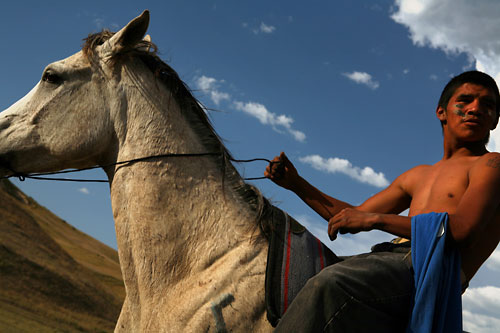 On the Great Plains, hidden away on little traveled back roads, is the place formerly known as American Prisoner of War Camp Number 334. It is now known as the Pine Ridge Indian Reservation, home of the Oglala Lakota (Sioux). They are the tribe that suffered the infamous Wounded Knee Massacre, in December of 1890, in which over one hundred unarmed women and children were killed. Since that day Wounded Knee, and the Pine Ridge Indian Reservation, have been a symbol of the wrongs inflicted on Native Americans by the descendants of Europeans. Pine Ridge is the quintessential example of the failures of the reservation system, with staggering statistics on everything from violent crime to education. Sadly, Pine Ridge continues to be the setting for an ongoing massacre within the tribe. Gangs on the reservation are out of control, and the violence they live by grips even the smallest villages. Unemployment on the reservation fluctuates between 85-90 percent. Recent reports vary but many point out that the median income on the Pine Ridge Reservation is approximately $2,600 to $3,500 per year. The housing office is unable to afford to build new structures, and existing structures are falling apart. Many are homeless, and those with homes are packed into rotting buildings with up to 5 families. Frequently, grandparents are raising their grandchildren because their own children have succumbed to alcoholism, domestic violence, and general apathy. Making life even more grim, fifty percent of the population over 40 suffers from diabetes and the life expectancy for men is a mere 48 years. A rider in horse races commemorating the Sioux's victory over Custer in the battle of the little Big Horn held every year near the site of the Wounded Knee massacre. These two events represent Native Americans' greatest defeat and their greatest victory.