POYi welcomes you to the 60th competition!
As one of the world's oldest, largest and most highly respected photojournalism contests, we are proud to continue our history of providing a venue for thoughtful and educational discourse committed to the advancement of the profession.
The Pictures of the Year International competition is conducted annually to recognize excellence in photojournalism by honoring press photographers, editors and the institutions where they are employed. Winning images from POYi have challenged photographers across the globe to push themselves to see more critically. Publications noted for their outstanding use of photographs have inspired rethinking and redesign at other media outlets.
Individual awards in 45 categories will be presented for newspaper and magazine photojournalism and for picture editing. Highest honors go to the Newspaper Photographer of the Year, the Magazine Photographer of the Year, the World Understanding Award and to recipients of the Community Awareness Award, the Angus McDougall Overall Excellence in Editing Award and the Best Use of Photography in Books Award.
The contest is made possible thanks to continued support from the Missouri School of Journalism. To enhance this support, POYi and the Missouri School of Journalism have established a Pictures of the Year International Endowment to ensure the contest continues to keep pace with changes in the profession while meeting its educational mission. POYi has supported the profession by providing leadership in establishing a standard of excellence; now is your chance to support POYi with your contribution.
We welcome your participation and look forward to achieving a record of the best photojournalism of 2002.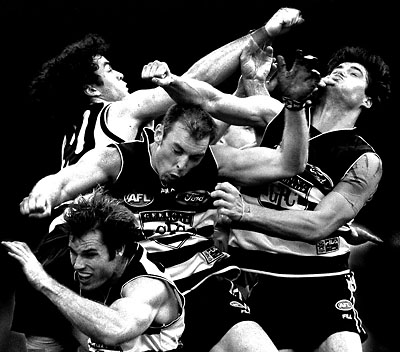 First Place, Sports
Nicholas Laham ALLSPORT / Getty Images
"Clashing cats"
Entries must arrive in Columbia by
TUESDAY, JANUARY 14, 2003
Call for Entries PDF (4.3MB)
Entry Form PDF (491k)
Pictures of the Year International is sponsored by the Missouri School of Journalism with support from Corbis, Fuji Photo Film, National Geographic, and MSNBC.com. A traveling exhibit of the winning images is available.
Please contact Kim Morrison at the Missouri School of Journalism, 105 Lee Hills Hall, Columbia, MO 65211, (573) 882-4882, MorrisonKL@missouri.edu.