Rick Shaw Named Director of Pictures of the Year International
Columbia, Mo. (June 8, 2006) -- Rick Shaw, an award-winning photojournalism and design editor, has been named director of Pictures of the Year International.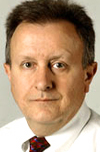 Rick Shaw

Pam Johnson, executive director of the Donald W. Reynolds Journalism Institute, announced the appointment today. POYi, a 63-year-old international photojournalism competition and educational program, will be headquartered in the Institute facilities at the Missouri School of Journalism.

Shaw has been involved with POYi since he was a student at Missouri, working under former POYi director Angus McDougall.

"As a photography student 28 years ago, I looked to POYi winners for inspiration and creative guidance," he said. "And now to be selected to lead Pictures of the Year International is a both a tremendous honor and a humbling responsibility."

Shaw teaches newspaper photo editing at the Missouri School of Journalism and also serves as the director of photography for the Columbia Missourian, the student-produced daily newspaper serving Columbia. Under his leadership, the work of more than 25 Missourian photo editors and staff photographers and a recent Missouri School of Journalism student were among the top winners at this year's POYi contest.

Throughout his journalism career, Shaw has worked in a variety of positions in photojournalism and design at 11 newspapers in seven states. He has been recognized with numerous professional honors from POYi and the Society of News Design contests, notably his photo editing and design work at the Sacramento (Calif.) Bee and the Hartford (Conn.) Courant. Shaw joined Missouri's photojournalism faculty in 2004 from the Hartford Courant, where he was director of design and graphics.

"Rick brings a clear vision of POYi's future and its leadership on photojournalism issues. For the Institute, the visual history POYi provides is a compelling attraction as we engage the public in discussions about journalism, its betterment and its future," Johnson said.

Shaw succeeds David Rees, who has served as director of POYi in addition to his role as chair of photojournalism. Rees said that Shaw has a proven track record of excellence and is a tireless and enthusiastic proponent of quality journalism. [read more]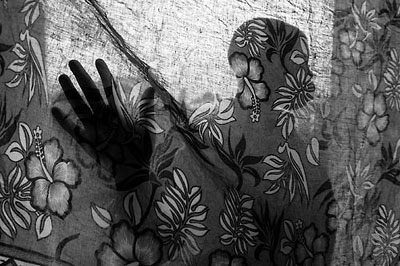 World Understanding Award
Roger Lemoyne Redux / Alexia Foundation
"Democratic Republic of Congo" GOMA, DRC March 21st 2005 An adolescent female under the age of 18 who was taken as a 'wife' by a commander while in a militia is seen through a curtain as she visits the local hospital to be checked for STDs. With the new program of 'Brassage' in the military forces, where militias are incorporated into the regular army, large numbers of child soldiers are being de-mobilised under Unicef's direction.
Missouri School of Journalism Names 63rd Annual POYi Contest Winners
COLUMBIA, Mo.óWinners of the 63rd Annual Pictures of the Year International (POYi) Competition, one of the world's largest and most prestigious photojournalism contests, were announced by the Missouri School of Journalism.
Judges viewed more than 39,000 images submitted by more than 1718 newspaper and magazine photographers and editors from 400 publications from 45 countries. Awards were given in 46 distinct categories by a panel of 12 of the world's leading photographers and editors, who made the winning selections during 19 days of judging from Feb. 19 through March 8 on the MU campus.
Barbara Davidson of the Dallas Morning News was named Newspaper Photographer of the Year (NPOY), the competition's top award in the newspaper division. Davidson's competition portfolio included a body of work from the Tsunami aftermath, the funeral of Pope John Paul II, Nigerian faith healers and the New Orleans Ninth Ward. The judges were impressed with the photographer's sense of intimacy with her subjects and strong storytelling. Todd Heisler, a staff photographer with the Rocky Mountain News, received second place NPOY. His portfolio contained several stories and iconic single images about U.S. military personnel killed in Iraq being returned to the U.S. Michael Macor, a staff photographer at the San Francisco Chronicle and last year's portfolio winner in POYi received third place NPOY.
Tamas Dezso a Hungarian freelance photographer, was named Magazine Photographer of the Year (MPOY). His winning portfolio includes stories about changes in Europe, including "A Decade After" which examines the nationalistic states created from the dissolution of Yugoslavia, "Romania- on Europe's Eastern Edge" and a new member of the European Union, and stories on a Hungarian village, "Totkomlos" and another on a section of Budapest, "District 8". Two other European freelance photographers, Marcus Bleasdale and Massimo Mastrorillo won second and third place portfolios, respectively. Bleasdale last year was the POYi magazine photographer of the year. [read more]