62nd ANNUAL PICTURES OF THE YEAR INTERNATIONAL WINNERS ANNOUNCED
A year of triumph, turmoil and tribulation is represented in the winning photographs of the 62nd annual Pictures of the Year International photojournalism competition just completed at the Missouri School of Journalism. From the summer Olympics to the elections in the U.S. and Afghanistan to the continuing hotspot conflicts of the world to the daily issues of contemporary culture, the year's best in pictures is truly remarkable.
Marcus Bleasdale, a freelance photographer, won first place Magazine Photographer of the Year and Michael Macor, a San Francisco Chronicle staff photographer, was named Newspaper Photographer of the Year. Seamus Murphy of London won the World Understanding Award for his 10-year essay on the changes in the Afghan political scene and the 2004 elections. Judges' Special Recognition was given to Francine Orr of the Los Angeles Times and Janet Jarman, represented by Corbis. Carolyn Drake was named the Community Awareness Award winner for her work with the New York community of The Lubavitch, an ultra-orthodox Jewish group.
Runners-up in the magazine division portfolio category were Ami Vitale, freelance, second place, and Denmark's Jan Grarup, RAPHO, third place.
Runners-up in the newspaper division portfolio category were David Joles of the Milwaukee Sentinel, second, Rick Loomis of the Los Angeles Times, third, with Awards of Excellence going to Sylwia Kapuscinski of the Detroit Free Press and Rick Gershon, freelance.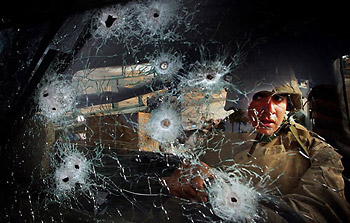 First Place, Public's Best Picture Of The Year
David Swanson, The Philadelphia Inquirer
Public's Best Picture Of The Year
at MSNBC.com
Voting for "Public's Best Picture of the Year" ended on April 8, 2005. The winning image is "Wages of War" by David Swanson, a photojournalist for The Philadelphia Inquirer.
Behind the Scenes at POYi
If you have any pictures from the judging of POYi, please email them to defb1a@mizzou.edu.